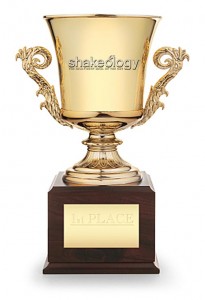 Creating an award winning Shakeology recipe is never easy. It takes experimentation, focus, creativity and lots of sampling! This year we nailed it. Strawberry Cheesecake Shakeology was the winner in the Greenberry category for best recipe in the Shakeology Shake Off contest at Coach Summit 2011. My mother, Sharon Tinsley, entered this fabulous recipe and accepted a huge award that included a basket of 2 bags of Shakeology, 10 sample packs, a Shakeology towel and a mini blender.
A video of Mom's award acceptance is below. She was blown away to say the lest and we were so proud!
The winner of the Chocolate category was created by Suzy Fauria, entitled, "Crocked Coconut Macaroon." This one had just about everything "coconut" in it. Get the recipe here on ShakeMenu.com.
Other recipes entered into the Shake Off contest were:
Banana Bread by David Schmidt
Exotic Chai Chiller by Jeannie Young
Nutz About Raisins by Hamilton Pham
Glazed Carrot Cake by Jennifer Beck
The Hippie Hippie Shake by Hope Fato
Grandma's Peach Cobbler by Perry Tinsley
Ambrosia Paraiso by Arlene Paraiso (Arlene won the Shake Off contest last year with Mangonana)
Ocha-logy by Ai Muir
Looking to try Shakeology? You can get it at the link below.

Shakeology is an ultra-premium nutritional shake. To create it, Beachbody searched the world for the most potent ingredients your body can easily absorb and utilize. This perfect combination of enzymes, prebiotics, antioxidants, and many rare ingredients—like adaptogens, Camu-Camu, and sacha inchi— give you the essential nutrients you can't get from an average diet. Even eating the recommended serving of fruits and vegetables every day won't give you this much nutrition.
No other shake, meal, or vitamin can make a claim this substantial.
Shakeology may help you:
Lose Weight
Feel Energized
Improve Digestion and Regularity
Lower Cholesterol (results may vary)

Tastes delicious, too!